13th International Conference on TESOL: "Breakthroughs in English Language Teaching in the Post-Pandemic"
On November 17-18, 2022, SEAMEO RETRAC, in conjunction with Curtin University, Australia, will organize the 13th Annual International TESOL Conference on "Breakthroughs in English Language Teaching in the Post-Pandemic".
This year, the event will be conducted in a hybrid format with both in-person presentations at SEAMEO RETRAC, Ho Chi Minh City, Vietnam, and virtual presentations via the Zoom platform.
The primary objective of this conference is to provide an excellent opportunity for academics, researchers, students, and professionals in the field of English language teaching to share and discuss research findings, experiences, and practical and theoretical issues related to teaching English to learners of various backgrounds, levels, interests, and motivations. The Conference is also aimed at creating networking for participants to foster professional skills, and develop cooperation activities among delegates from all over the world.
We are privileged to welcome participation from all local, regional, and international individuals and institutions at our Conference.
Registration link for participants: https://bit.ly/3PXIH0k
For presenters, please register: https://bit.ly/3Sjdvdu
For further information, please kindly contact the TESOL Conference Committee at the email: tesol-conference@vnseameo.org or visit the conference website: https://www.vnseameo.org/TESOLConference2022/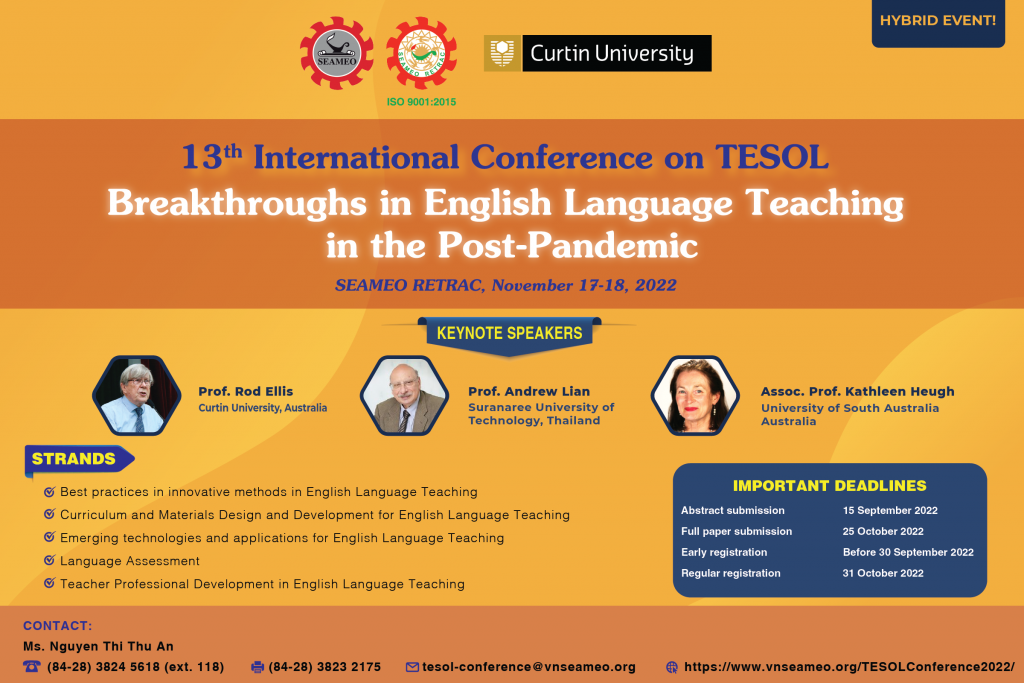 Comments are closed.