---
Training Course on "Effective Communication and Professional Etiquettes" for Universities and Colleges
A training course on "Effective Communication and Professional Etiquettes for Universities and Colleges" will be held by SEAMEO RETRAC on November 18-19, 2020 at the Center's premises. The target participants will include supporting staff and officers who are working at Student Affairs Department of different universities and colleges.
The course primarily aims at providing and updating participants with essential skills and knowledge related to professional etiquettes and practical communicating skills used in higher educational context. After the course, participants are expected to possess useful information about professional ethics to establish cordial relations with colleagues and related stakeholders.
Bài viết liên quan
From December 01-11, 2020, SEAMEO RETRAC will conduct a virtual international training course on "Capacity Building in Higher Education Leadership...
05/11/2020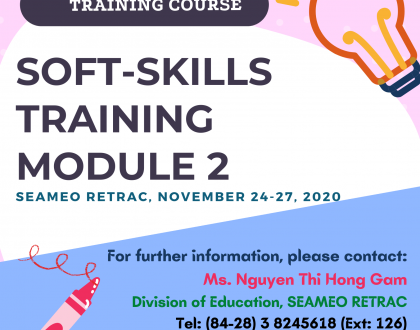 From November 24 to 27, 2020, a training course on "Soft-Skills Training – Module 2" will be carried out...
03/11/2020