---
International Conference 2021 on "Global Leadership and Management in Higher Education: Innovations and Best Practices"
On October 28-29, 2021, SEAMEO RETRAC, in collaboration with British Columbia Council for International Education (BCCIE, Canada), will organize the International Conference 2021 on "Global Leadership and Management in Higher Education: Innovations and Best Practices". The Conference aims at creating a global platform for discussion, collaboration and intellectual exchange among educational leaders, academicians and professionals in the areas of higher education from all over the world.
This year, the Conference will be conducted in a virtual format. The Conference will be organized on the Zoom platform and concurrently streamed on YouTube Live.
The main goal of this Conference is to help the participants update and exchange information about best practices and effective innovations in leadership and management in higher education to be better prepared for the future. Moreover, the Conference is also aimed at exploring innovative ideas and practices related to current leadership and management strategies, quality assurance and accreditation, industry and university partnership, technology applications, and global citizenship education.
The International Conference 2021 is honoured to have the presence of keynote speakers and featured speaker, who are:
Keynote speakers:
Paul Dangerfield, President, Capilano University, Canada;
Ethel Agnes Pascua-Valenzuela, Director, SEAMEO Secretariat, Thailand.
Featured speaker:
Howard Youngs, Senior Lecturer, Educational Leadership; Leader, International, School of Education, Auckland University of Technology, New Zealand.
We are privileged to welcome participation from all local, regional, international individuals and institutions to our Conference.
Link for registration: https://forms.gle/4am6kVuDSo5jVSed6
For further information, please contact:
Division of Education
SEAMEO Regional Training Center in Vietnam
Tel: (84-28) 3 8245618 (Ext: 125)
Email: internationalconference2021@vnseameo.org or hnthao@vnseameo.org
Website: http://www.vnseameo.org/InternationalConference2021/
Bài viết liên quan
On May 25-26, 2021, SEAMEO RETRAC will organize a training course on "Grant Proposal Writing Skills" for researchers, project...
22/04/2021
On June 22-25, 2021, SEAMEO RETRAC will conduct an international virtual training course on "Capacity Building in Higher Education...
22/04/2021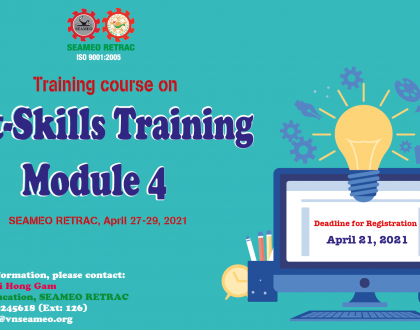 With the aim of equipping participants with the necessary skills to well serve the training and development of soft...
22/04/2021