---
International Training Course on "Capacity Building in Leadership and Management for Higher Education" for Cambodia, Lao PDR, and Vietnam
SEAMEO RETRAC is going to conduct the annual training course on "Capacity Building in Leadership and Management for Higher Education" at the Center's premises. Participants of the course will be leaders and administrators of different higher education institutions from Cambodia, Lao PDR, and Vietnam. The training will take place from the 20thto the 23rdof November, 2019. This course aims at providing participants with updated knowledge and current practices in leadership and management in higher education as well as giving them networking opportunities with others participants and trainers. The topics of discussion covered at the training course will include (1) innovation in educational leadership: influence, empower and engagement for success, (2) strategic management and accountability in higher education, (3) strategies for inspiring positive change in higher education, and (4) human resource management in higher education.
Bài viết liên quan
A training course on "Soft-Skills Training – Module 3" will be conducted on November 12-15, 2019 by SEAMEO RETRAC...
02/10/2019
With the aims of equipping participants with the use of innovative ICT applications currently used in managing online learning...
02/10/2019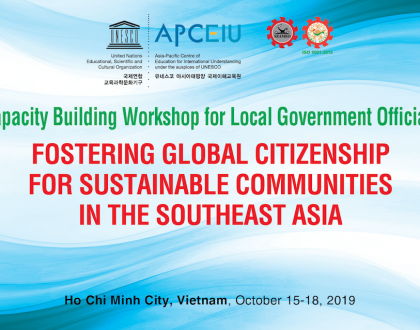 From the 15thto the 18thof October, 2019, SEAMEO RETRAC will organize a 4-day workshop on "Fostering Global Citizenship for...
02/10/2019