---
Training course on "Soft-Skills Training – Module 4", April 27-29, 2021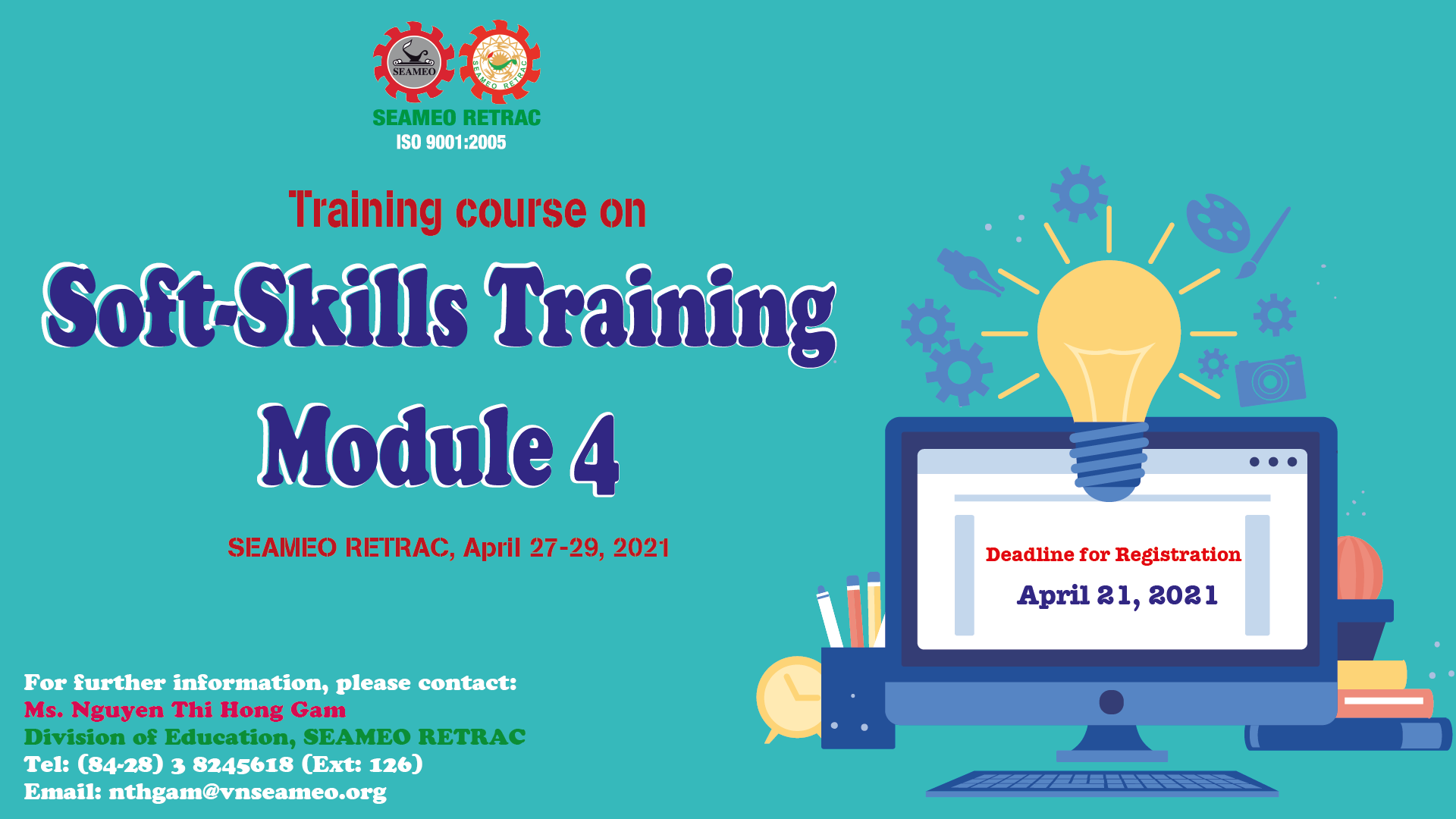 With the aim of equipping participants with the necessary skills to well serve the training and development of soft skills for students at their institutions, SEAMEO RETRAC will organize a training course on "Soft-Skills Training – Module 4" from the 27th to the 29th of April, 2021 for participants from different universities, colleges and vocational training schools in Ho Chi Minh City and its nearby provinces.
The course will cover several crucial topics, namely:
Problem-solving and decision-making skill;
Time management and work organization skill;
 Adaptability and flexibility.
Also, the course will provide participants with plenty of opportunities for discussions and debates on potential issues and teaching techniques for the participants in training soft-skills to their own students in the most invigorating and captivating manner at their institutions.
Deadline for Registration: April 21, 2021
For more information about this training course, please contact:
Ms. Nguyen Thi Hong Gam
Division of Education
SEAMEO RETRAC
Tel: (84-28) 3824 5618 (Ext: 126)
Email: nthgam@vnseameo.org
Bài viết liên quan
On May 25-26, 2021, SEAMEO RETRAC will organize a training course on "Grant Proposal Writing Skills" for researchers, project...
22/04/2021
On October 28-29, 2021, SEAMEO RETRAC, in collaboration with British Columbia Council for International Education (BCCIE, Canada), will organize...
22/04/2021
On June 22-25, 2021, SEAMEO RETRAC will conduct an international virtual training course on "Capacity Building in Higher Education...
22/04/2021