---
Training course on "Writing a course syllabus"
On May 26-27, 2022, SEAMEO RETRAC will organize a virtual training course on "Writing a course syllabus" for lecturers and academic staff from different universities and colleges across the country on the Zoom platform. The course aims at equipping with the knowledge and necessary skills to apply in developing a detailed course syllabus to improve teaching quality and students' learning effectiveness.
During the course, participants will learn how to devise specific learning goals and course learning outcomes. Also, they will approach different teaching activities in accordance with appropriate assessment methods and practice writing a detailed course syllabus under the guidance and advice from the trainer.
Bài viết liên quan
From May 17-26, 2022, SEAMEO RETRAC will conduct a virtual regional training course on "Enhancing Excellence in Leadership and...
18/04/2022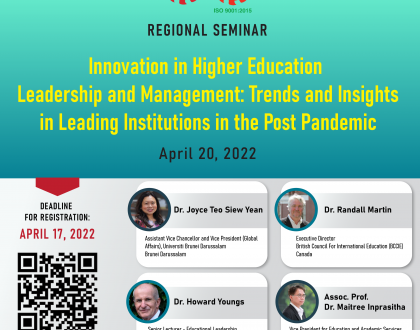 To assist SEAMEO Member Countries in addressing issues and identifying solutions for challenges related to higher education leadership and...
18/04/2022
On July 07-08, 2022, SEAMEO RETRAC, in collaboration with British Columbia Council for International Education (BCCIE, Canada), under the...
09/03/2022