---
International Conference 2022 on "Innovative Leadership and Management in Higher Education: Global Trends and Practices in the Post COVID-19 Pandemic"
On July 07-08, 2022, SEAMEO RETRAC, in collaboration with British Columbia Council for International Education (BCCIE, Canada), under the sponsor of Capilano University, Canada, will organize the International Conference 2022 on "Innovative Leadership and Management in Higher Education: Global Trends and Practices in the Post COVID-19 Pandemic". The Conference aims at creating a global platform for discussion, collaboration and intellectual exchange among educational leaders, academicians and professionals in the areas of higher education from all over the world.
This year, the Conference will be conducted in a virtual format on the Zoom platform.
The main goal of this Conference is to help the participants update and exchange information about best practices and effective innovations in leadership and management in higher education to be better prepared for the future. The Conference is also aimed at exploring innovative ideas and practices related to educational leadership innovation, quality assurance and accreditation, curriculum and research development, teaching and learning in the post-pandemic, digital technologies in teaching and learning, and global partnership and transnational education. We are privileged to welcome participation from all local, regional, international individuals and institutions at our Conference.
Registration link for participants: https://forms.gle/NSwNCGv5tFWrHW6e9
Registration link for presenters: https://forms.gle/SLDKcEKKkhF4sNJn8
For further information, please contact:
Division of Education
SEAMEO Regional Training Center in Vietnam
Tel: (84-28) 3 8245618 (Ext: 125)
Email: internationalconference2022@vnseameo.org or hnthao@vnseameo.org
Website: https://www.vnseameo.org/InternationalConference2022/
Bài viết liên quan
From May 17-26, 2022, SEAMEO RETRAC will conduct a virtual regional training course on "Enhancing Excellence in Leadership and...
18/04/2022
On May 26-27, 2022, SEAMEO RETRAC will organize a virtual training course on "Writing a course syllabus" for lecturers...
18/04/2022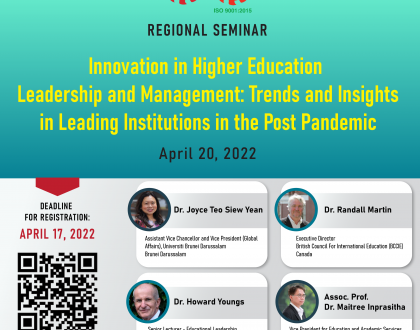 To assist SEAMEO Member Countries in addressing issues and identifying solutions for challenges related to higher education leadership and...
18/04/2022