Webinar on Online Language Teaching
A webinar on online language teaching was jointly conducted by SEAMEO RETRAC and Curtin University, Australia on May 7, 2022. The topic is "The praxis of online language teaching in the pandemic world: resilient pedagogy, research, and future directions." The webinar was presented by Associate Professor Julian Chen from Curtin University, Australia.
The webinar drew on the speaker's experience of working in teaching, together with his knowledge of relevant research and theory related to how Asian language professionals upskill their current teaching practices through virtual mentoring support and how language teacher-researchers conducted studies using innovative approaches to bypass social distancing. 
With the attendance of 60 participants who were alumni, MA potential applicants, and SEAMEO RETRAC teachers, all participants were eager to share their interests and experience on the topic. The webinar ended with an integrative session where attendees exchanged and shared hands-on digital tools that are conducive to language teaching and learning in a virtual community of professional practice, as well as the Q&A session for potential applicants for upcoming intakes.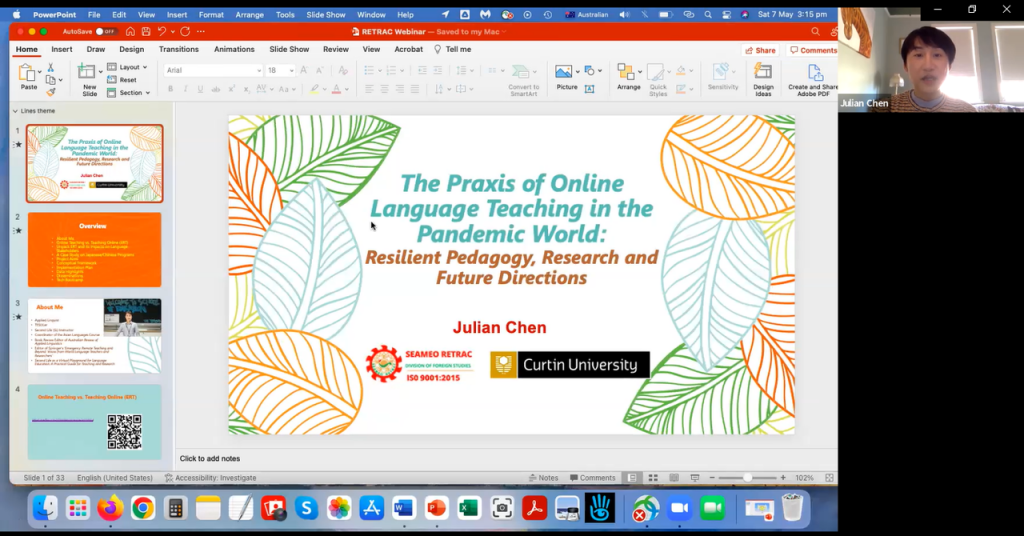 Comments are closed.