The SEAMEO Congress 2021
The SEAMEO Congress 2021 for Education, Science and Culture in Southeast Asia, hosted by Southeast Asian Ministers of Education Organization (SEAMEO) and the Ministry of Education of Thailand gathered regional and global leaders and experts virtually on April 28-29, 2021. The Congress with the theme "Transforming Southeast Asian Education, Science and Culture in the Digital Age" featured diverse topics that support the transformation of Education, Science and Culture that can effectively contribute towards the promotion of human development at the community, country, regional and at the global levels.
The SEAMEO Congress 2021 served a platform for the policymakers, teachers, researchers, and educators to exchange the effective policy, fruitful teaching experiences and share new learning paradigms and practices in the digital age.
The SEAMEO Congress 2021 was successfully convened with more than 125 speakers, 7,500 participants on the FLOOR platform and more than 31,000 viewers on YouTube channel. Besides, as similar as face-to-face conferences, through the FLOOR platform, participants were also able to visit 50 virtual booths provided by SEAMEO Centers' and partners, as well as 50 e-Poster presentation booths.
Participating in SEAMEO Congress, SEAMEO RETRAC has exhibited its activities and upcoming international educational events at its virtual booth provided by the organizers. Besides, Dr. Ho Thanh My Phuong, Center Director, moderated one of the parallel sessions on "Transforming Education for Quality Learning Outcomes".
Presentations of the speakers and the recorded sessions can be found at the following link: https://bit.ly/3h79fxx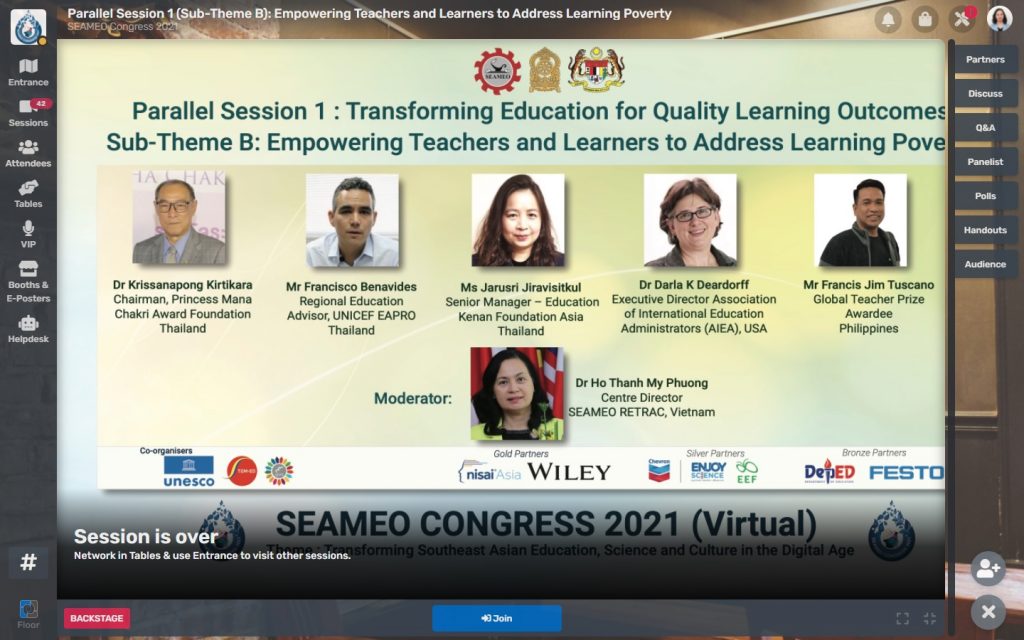 Comments are closed.